What are Managed IT Services?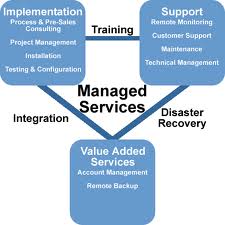 Whether your company needs support in one specific area or a more extensive IT solutions system, there will undeniably be one service agency that will certainly suit your needs. This agency's managed IT services system will be your organization's partner in attending to its IT solutions, needs and specifications. Basic services focus on a primary assessment of your company's existing technical situation that will help you come to a decision on what services and which service level you must have.
Managed IT services offer a vast range of IT solutions like network solutions, server administration, security and patch management, helpdesk support, project management and many others. If you fail to keep up on things such as maintenance, back-ups, security etc odds are you may encounter some serious system collapse that will definitely harm your business and will set you back more than you can reckon.
The focus of the services provided by IT companies is to take care of technical needs practically and get rid of quick and band-aid solutions. Generally, you get 24/7 server monitoring, centralized support, reduced overall cost of ownership, IT issue preventative maintenance and fixed monthly expense although you still maintain complete discernment of all the processes of your systems. Most IT services are provided remotely while a few are provided with onsite support as required. Their structured IT workforce will assist in organizing, decision-making and coordination with the interest of your company as the primary goal.
Consider first about what you precisely need when looking at managed IT services. Have you been satisfied with the way your systems conduct? What is the effect of system breakdowns and outages to your business? Figuring out these things can help you and your IT partner decide how to efficiently prepare the type of managed IT services your company requires.